By Conley Smith
T
aste and power - that's how New York City attorney Paul Huck views cuff links. He shares a story about Britain's Prime Minister Tony Blair's first cabinet meeting. "The Times of London wrote that he wore just shirtsleeves, but with gold cuff links. They said he was sending the proper message-taste and power."
| | |
| --- | --- |
| | |
| | |
| | Anastasia is shown with his nearly 1,500 pairs of cuff links. |
For Huck, this sums up the passion behind wearing and collecting those little treasures men fasten to their shirtsleeves. He delights in changing cuff links according to his mood. On Monday, he may sport a pair of fighting cocks to convey a take no prisoners attitude. On Fridays, he may dress down with bejeweled giraffes.
The 48-year-old Huck is not alone in believing that cuff links are not just sleeve fasteners, but a unique form of self expression. He marvels at the ornate styles of the Victorian era, the nature-inspired motifs of the Art Nouveau period and the bold lines of the Art Deco era.
Huck and 8,000 others make up the National Cuff Link Society, founded in 1991 by Eugene R. Klompus. The group publishes The Link, a quarterly publication uniting collectors throughout the world.
Klompus' private collection runs the gamut from pairs once owned by George Bush and Lyndon Johnson to ones worn by Kaiser Wilhelm. He's been purchasing cuff links since he was 12 years old and now has many pairs.
The attraction for him is that cuff links can be "as luxurious as the aficionado wants them to be." The more upscale sets feature precious metals, often set with diamonds, rubies or sapphires. More unique are custom cuff links-one of a kind hand-crafted pieces featuring unique designs, motifs or initials.
To many collectors, these miniature works of art festooned to a French cuff are like wearing history on your shirt sleeve, since cuff links have always mirrored the economy and lifestyle of their time. The Victorian accent on color and glitter shines through the enameled designs of the period. The ostentatious fashion preferences of post-World War II gave birth to bright and oversized cuff links.
| | |
| --- | --- |
| | |
| | Some of Anastasia's collection, the most comprehensive antique enameled cuff link collection in the world. |
Huck's niche is cuff links by contemporary American studio goldsmiths, "jewelry makers who became artists," he says. His collection is relatively small, about 30 pairs. But he has also become a dealer of cuff links, offerings ranging in value from $10 to $5,000. "I have everything from the fun to the more serious Tiffany and Cartier," he adds. He started wearing cuff links in high school and found that sporting them was de rigueur by the time he graduated to corporate America. He still wears them three or four times a week.
New Yorker Derek Anastasia is a cuff link purist-he only trades and never sells any of his collection. His interest in cuff links was spawned upon graduation from business school in 1984. "My grandfather gave me a pair of antique gold cuff links. Once you get one pair, you need more," he says.
Working on Wall Street was instrumental in Anastasia's burgeoning collection. "I was in an environment that fostered stylish dressing. People, especially bankers and lawyers, were wearing French cuff shirts, and the appeal of cuff links is as practical as it is aesthetic.
"I collected antique cuff links at first and then became familiar with enamel cuff links. My eye gravitated toward them-there is something about the gem-like brilliance of enameling that just stands out and above the rest. To me, the enamel seems to capture the fire from which it was made."
---
Anastasia has amassed the most comprehensive antique enameled cuff link collection in the world --1,459 pair and 752 singles -- and organized the collection to represent major art movements since the Georgian era.
---
"Starting in the Victorian era of the 1830s, cuff links have been fashioned after art movements-art nouveau, arts and crafts, belle epoque, art deco and modernism. Today's designs reflect contemporary tastes as well as styles of the past," Anastasia says.
While his collection represents an investment of $20,000, Anastasia values it at close to half a million dollars. His career in competitive financial intelligence takes him around the world, "where I head straight to antique shops and thrift shops," he says. Like other "super collectors," Anastasia's obsession is incessant. He vacations at the Brimfield Antique Show in Massachusetts.
Huck has also seen his collection appreciate handsomely. Many of the post-World War II artists created only a small number of pieces, making these cuff links all the rarer. "As soon as the artists die, prices skyrocket," says Huck, who offers simple advice to the would-be collector. "Buy what you like and you'll be happy. A well-made pair of cuff links should appreciate, but if you want to invest, that's what stocks and bonds are for."
Claude Jeanloz, founder and director of The Cuff Link Museum in Conway, N.H., has witnessed a flourishing interest in high-end cuff links. His 30 year old collection was the genesis for the museum, which displays more than 70,000 pairs of cuff links, with another 40,000 other pairs in storage.
"Many people aggressively collect high-end cuff links only. They look for vintage cuff links at international auctions such as Sotheby's and Christie's. There are people who think nothing of flying to Geneva to spend $15,000 for a pair of cuff links."
The value of cuff links, according to Jeanloz, emanates from the material, such as gems and precious stones, and the providence, or who wore them. Prominent manufacturers, such as Cartier, Van Cleef & Arpels and Tiffany, also draw collectors. A 1998 Arcade Auction at Sotheby's offered dozens of cuff links for bidding, ranging from 18 carat gold and ruby Tiffany cuff links to a pair of 18 carat gold and sapphire cuff links by Van Cleef & Arpels
Custom cuff links, usually created by a jeweler for a woman to give to a man, are another niche for collectors. Though custom cuff links don't necessarily cost more than mass-produced ones, Jeanloz says they have a unique value, citing the example of balloon cuff links given to Malcolm Forbes to reflect his interest in the sport. "It's a very personal item, a one of a kind piece done by top quality designers," he says.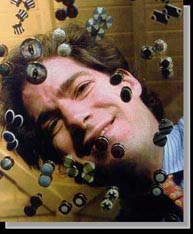 Collector Derek Anastasia peers through a glass table sprinkled with some of his cuff link collection.
Though Jeanloz has donated much of his collection to the museum he now directs,he still wears cuff links every day. "I've got the same 20 to 25 pairs that I wear every day, and 80 percent of those were given to me new on some occasion," he says.
One benefit of being a cuff link connoisseur is that French cuff shirts have become more popular and available since fashion designer Armani began sending models down Milan runways in them five years ago. "Before Armani you couldn't find shirts to go with cuff links, or you could only find them in white," Anastasia says.
Anastasia's favorite cuff links are his "Mother of All Enamels," which feature the Tour De Guillocher machine, which revolutionized cuff link production, on one face and the image of an industrial firing kiln on the other face. Huck's favorites are animal figurines like his orange enamel giraffe cuff links with diamonds in the ears. "They always bring a smile to people's faces," he says. He also favors his 18 carat red gold cuff links with a diamond in the center. "This is the closest I can get to wearing a pinkie ring," he laughs.
Copyright © 1999 All Rights Reserved